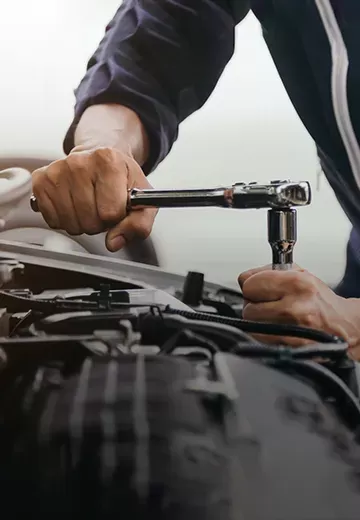 Always at your SEVA
Widest network of service centers with 25000 service champions
VISION
Mahindra Tractor Service
Mahindra Tractor Service aims to become 1st choice for its customers, by putting customers first and focusing on service and support for farming solutions. The SEVA Approach, which stands for Service Quality, Energizing Relationship, Value Added Service, and Assurance & Trust, outlines the core principles and commitments of the service.

Service Quality
Mahindra Tractor Service emphasizes providing high-quality service through efficient and effective solutions that meet or exceed customer expectations, by maintaining a strong focus on service quality.

Energizing Relationship
By actively engaging with customers, understanding their needs, and addressing their concerns, to build strong relationships by delivering personalized support.
Value Added Service
Apart from the core tractor servicing, the company offers additional services that enhance the overall customer experience.

Assurance & Trust
Mahindra Tractor Service strives to build trust by consistently delivering on its promises and providing reliable and dependable service.
LATEST HAPPENINGS
Major Highlights
90+
Feature Upgradation Navjeevan Kits on Subsidized Rates
Mahindra Tractor Service offers over 90 feature upgrade options through Navjeevan Kits, which are available at subsidized rates. These kits provide customers with the opportunity to enhance the functionality and performance of their Mahindra tractors.
30k+
Service Camps in FY22-23
Mahindra Tractor Service conducted over 30,000 service camps during the financial year 2022-2023. These service camps provide customers with the convenience of accessing maintenance and support services for their Mahindra tractors at centralized locations.
2
Lakh+ Customers Attended at Doorstep in FY22-23
Mahindra Tractor Service served over 200,000 customers through doorstep service during the financial year 2022-2023. Doorstep service allows customers to receive prompt assistance and support for their Mahindra tractors without the need to transport the tractors to a service center.
10
Skill Development Centers under Aatmanirbhar Bharat Initiative
Mahindra Tractor Service has established 10 skill development centers as part of the Aatmanirbhar Bharat initiative. These centers aim to provide training and skill development opportunities to individuals, equipping them with the necessary knowledge and expertise in tractor service and maintenance.
5000+
Tech Master Child Scholarships
Mahindra Tractor Service offers Tech Master Child Scholarships, which are educational scholarships aim to support the education and future aspirations of deserving students.
SERVICE PROMISE
SEVA Offerings
SDC-Skill Development Center
+
24x7 Toll Free Contact Center
+
* 6 years warranty policy for Mahindra
+
GET IN TOUCH
Create Service Request